JE DESIGN - the company
---
The JE DESIGN Company are involved in the development / construction as well as the distribution of vehicle tuning parts for Volkswagen, Audi and Seat. In particular the main focus is aimed at car styling in the aerodynamic sector using synthetic materials that are manufactured using the methods of Vacuum forming, injection moulding and foam plastic technology. We also develop products, like body styling kits, in the aerodynamic field for other well known tuners (some of whom are members of the VATZ. e. V). The access to CAD / CAM has widended our technical possibilities.
Company History
---
The company JE DESIGN was founded in 1990 by Jochen Eckelt in Heilbronn. In 1992 the company became "JE DESIGN construction and sale of vehicles and tuning parts LTD ". In 1994 the company was working exclusively on the VW range and then in 1996 we expanded to include Audi. 1996 saw us complete our programme with the inclusion of the SEAT range. In 1997/98 we moved to new premises in Heilbronn-Horkheim due to the increasing demand for our products on the international market. All departments - model building / moulding / workshops / stores / despatch / management and sales were located at the 430 sq. metre adress. At the German Motor Show in Essen we introduced our first "own design" wheel that was the 2 piece "Visage " available in 16" and 17" and various witdhs. A steady increase in demand for our quality products meant we needed larger premises and we moved in October 2002 to the 74211 Leingarten Industrial Estate where we now have a floor space of 3000 sq. metres which gives us a greatly increased warehouse capacity and thus increases our service efficiency. Technical development, modelling and forming tools are still located at our Heilbronn-Horkheim site. We expanded our proramms in 2000 to include the areas of car interiors and exhaust systems. From the beginning of 2001 we have developed one-piece wheels in 15" and 17" as well as now being able to offer performance engine tuning.
In 2005 we presented our new Multispoke wheel in the sizes 17", 18" and 19". The wheel is available in 4 colors and fits for the most current Seat, VW and Audi cars.
2008 we launched another highlight - the 22" SUV-Select wheel wich is availabel in 3 colors and especially developed for VW Touareg, Audi Q7 and Porsche Cayenne.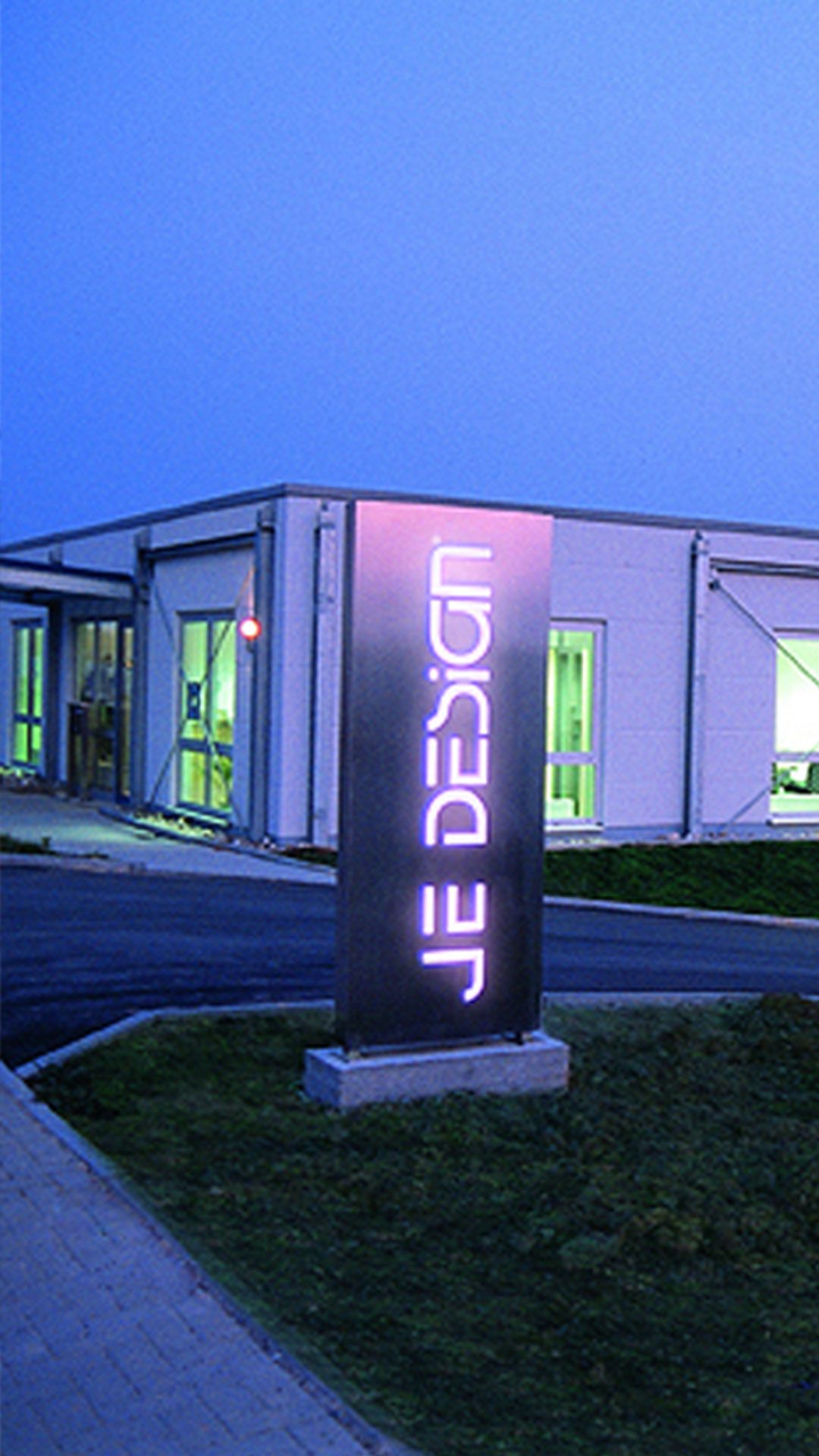 Sales structure
---
Home Market
In Germany JE DESIGN products are primarily distributed via the Volkswagen / Audi dealers that have an active distribution network. We also supply to specialist outlets and catologue retail outlets such as D&W in Bochum. Our SEAT range is primarily dirstributed through Seat Germany GmbH to their appointed dealers.

International Sales
JE DESIGN products have officially appointed agents in the following countries: Switzerland / Austria / Sweden / Norway / Belgium / France / Great Britain / Holland / Spain / Czech Republic / Japan / Hong Kong / Singapore / Australia / USA who will supply other wholesalers and the retail market. The export to countries not mentioned obove is handeled directly by Head Office in Leingarten.
Approval
---
All products developed and offered by JE DESIGN carry parts approval and those bearing KBA numbers have government approval. JE DESIGN exhaust systems are designed and manufactured to EWG standards. With all supplied parts you will receive a test report, detailed assembly instuctions and all required fixing materials.
Quality Assurance
We maintain a quality assurance system in co-operation with the TÜV-Austria Automotive GmbH. The verificarion DESIGN is under the DAR register No QA 05 113 8097.
Marketing
---
For each brand - VW / Audi / SEAT we supply a multilingual product cataloge. These are distributed to our trade partners and agents. In the publications of "Motor-Press Stuttgart" (auto, motor and sport, sport auto, mot) and other special interest magazines we book advertisements. We also book advertisements in motoring magazines - in co-operation with our agents - in their own countries. We also "direct mail" certain customer groups with special offers. Since 2000 we are now taking part in the annual sport auto / Yokohama Tuner Grand Prix at the Hockenheimring. We are also represented at many International Fairs / Shows with the co-operaion of our local agents - Speed & Design Utrecht, Holland / Auto Salon Burssels, Belgium / Palexpo Geneva, Switzerland and Autozum in Salzburg, Austria. We have also attended the German Motor Show, Essen for many years.
Future Marketing / New Media
Since March 1997 we are represented on the Internet under http: // www.je-design.de and we now have altogether more than 70 pages. The customer can see on the Internet all our products and there is the facility to place orders. Our internet pages are regularly updated.